I decided to throw myself into the the black hole called Jurassic World and came out as a crying, sobbing, happy mess.
Grossing $208M during opening weekend, taking out The Avengers and Thor's hammer with it *~see image~*, Jurassic World is a total dino-mite. (I am deeply sorry about that pun)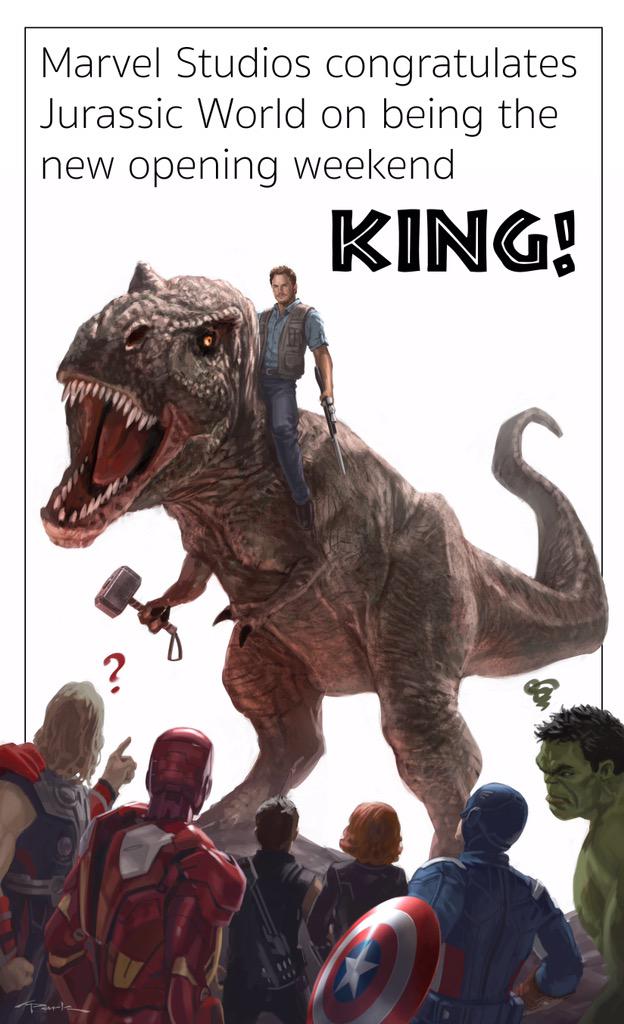 As a sequel to Colin Trevorrow's Jurassic Park, Jurassic World features the story of a running theme park, which the movie was named after, holding on to the vision of John Hammond. However, after about 10 years of running, the public became disinterested with their attractions, causing the the park's scientists to produce a genetically-enhanced dinosaur, the Indominus Rex. However, this attempt to bring back a bigger audience backfired and soon led to some chaotic consequences.
With a cast like Chris Pratt, Bryce Dallas Howard, Nick Robinson, Irrfan Khan, and some OHMYGODTHISISAMAZING velociraptors and other dinosaurs, my crappy summary obviously does no justice to the actual movie.
Here are my favorite things about it instead:
OWEN GRADY (AKA CHRIS PRATT)

Jurassic Pratt (and Recreation): This guy alone is a good enough reason to go see the move. Do we really need to explain?

Let's face it, whether he's playing the cute and dorky Andy Dwyer from Parks and Rec or the badass and still slightly dorky Owen Grady, Chris Pratt can probably do no wrong. (We're completely not biased and Chris Pratt is totally not the greatest creature on this planet~~~)

CLAIRE DEARING (AKA BRYCE DALLAS HOWARD)

The movie received backlash and was called 'sexist' after female lead Claire Dearing sprinted in heels during the film

Despite being called 'sexist' by critics, Claire Dearing (played by Bryce Dallas Howard) is the park's operations manager and gives off an anti-damsel in distress vibe throughout the film. She not only basically told Owen Grady "B*tch bye, if you can do it, I can do it, too." rather than hiding behind his cliché masculine protection, this woman did in HEELS. HEELS! CAN YOU OUTRUN A DINOSAUR IN HEELS?! She basically oozes feminism people! Saving people in an amazing outfit and heels. Can a girl look good and wears what she wants without someone over-analyzing it? Wake up and smell the dinosaurs, she is #godessstatus.Can this movie get any better? You bet jurassican.

RAPTOR SQUAD

#squadgoals: Blue, Charlie, Delta, Echo, and their alpha-papa/trainer, Owen, form an unlikely squad in the film, causing fans to become slightly obsessed and emotionally attached

If you read anything about Jurassic World beyond this post, you probably heard about the velociraptors. The 1/5 human and 4/5 dinosaur group, also known as the Raptor Squad, sparked an unlikely reaction among its growing fandom. By the end of the movie, the dynamic group, composing of Blue, Charlie, Delta, Echo, and Owen, caused fan to not only fall in love with this adorable pack but be mildly emotionally attached to these raptors as well (myself included). Check out these super cute raptor squad fanart too:

Creds: Karina

Creds: BeeterDeeter

Creds: Mikayla

Same tbh. Creds: RJ

Can you hear that? That's the sound of my heart melting into a puddle. Tell mom I want a raptor for Christmas please and thank you.ANYWAY, Jurassic World basically ruined my life. And of course, these are only a few of my favorite things about this intense heart-wrecking film. I am a good person, I don't deserve to be in a crying mess like this. ~crying emoji~

Long story short, if I die of heart failure and feels, please write 'Jurassic World' on my gravestone.

All the love.
---
Photo credits:
Twitter-@kevfeige (Image 1)
Universal Pictures-Jurassic World (Featured image and image 1, 2, 3)